Choosing a hydroelectric turbine for your river
Choose a hydroelectric turbine adapted to the potential of your river, even at low flow rates.
Solutions for heads from 1.2 m to 8 m.
Turbiwatt offers three hydroelectric turbines for professional use. They are designed in three different diameters to cover virtually all hydroelectric potential for net waterfalls ranging from 1.2 m to 8 m high and for flow rates from 100 L/s to 4000 L/s.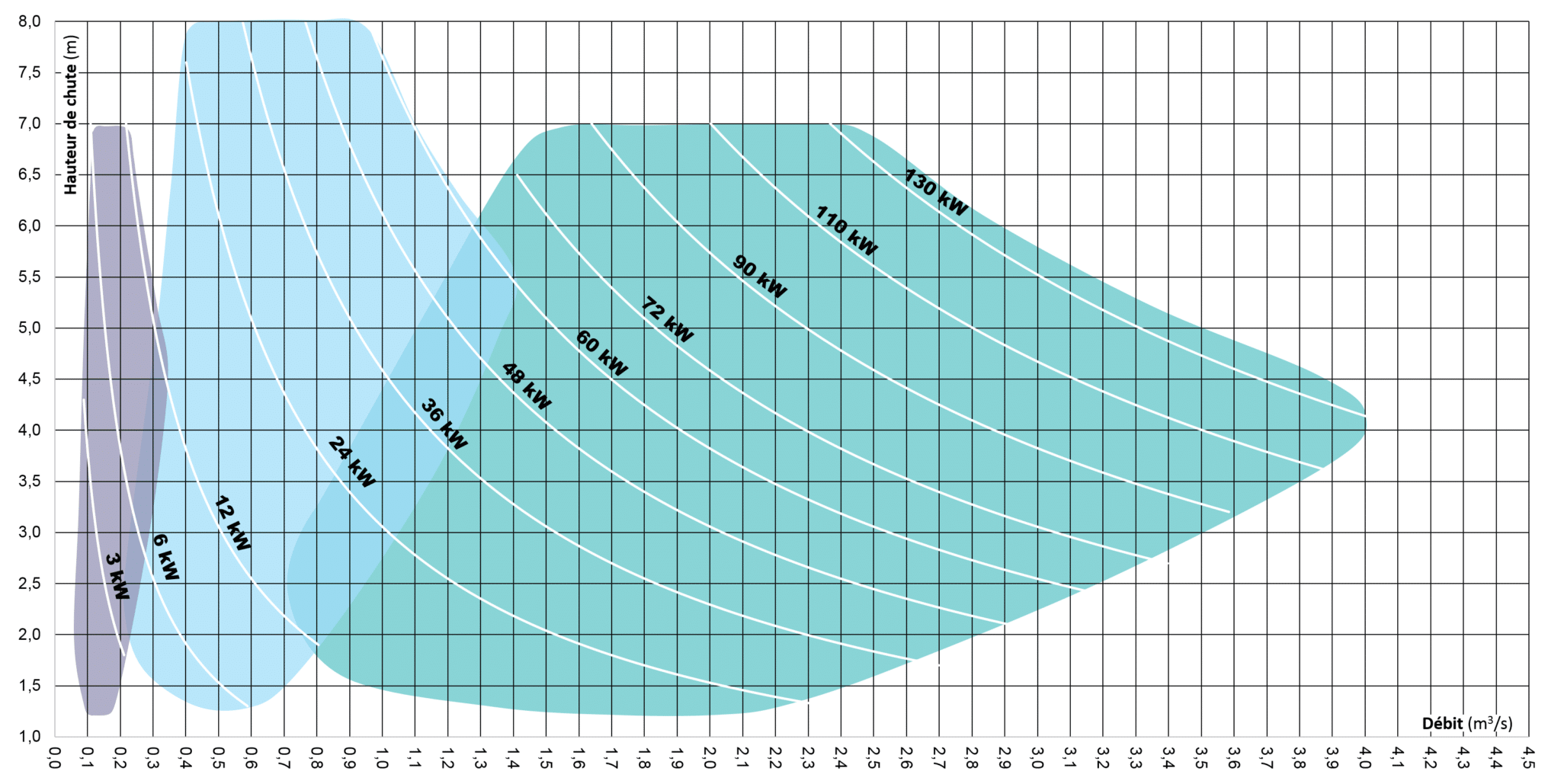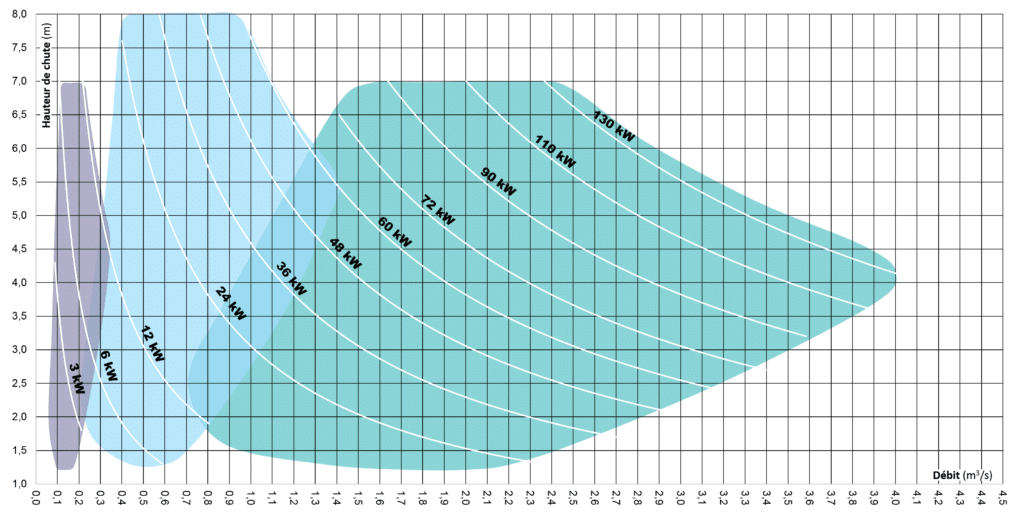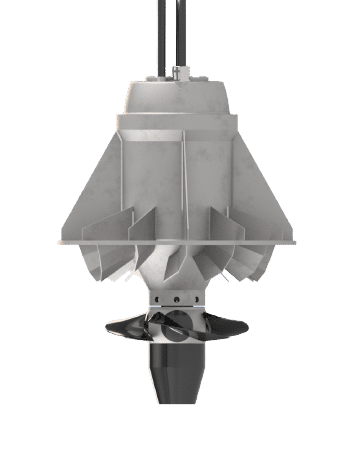 T400 micro-turbine
Head: 1.6 m to 7 m
Nominal flow rate: 100 l/s to 320 l/s
Rated power: 2 to 12 k W
See the T400 micro-turbine >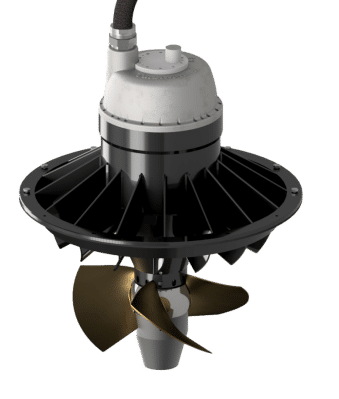 T800 turbine
Head: 1.2 m to 8 m
Nominal flow rate: 250 l/s to 1400 l/s
Rated power: 6 to 55 kW
See T800 turbine >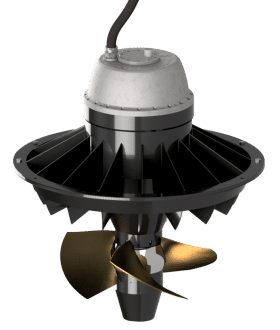 T1300 turbine
Head: 1.2 m to 7 m
Nominal flow rate: 700 l/s to 4000 l/s
Rated power: 20 to 130 kW
See T1300 turbine >
Calculate the available power on your site
The power delivered by a hydroelectric turbine is directly proportional to the head and the flow of the river. The theoretical power of a site can be estimated using the following simplified formula: P (kW) = Q (m³/s) x H (m) x g x R.
[P = Power in kW; Q = Flow in m³/second; H = net head in metres; g = coefficient of gravity = 9.81; R = coefficient of performance (usually 0.80)].
Please note that the height of fall to be taken into account is the net height of fall.

Turbiwatt can help you assess the potential of your site.
Turbiwatt is first and foremost a designer and manufacturer of its turbines, which are produced in its workshops in Brittany. We help our customers to define and choose the equipment best suited to the characteristics of their site, and to find the best solution for its implementation, based on the data provided to us by our customers.
How to install your turbine?
Quick, simple and cost-effective installation, A totally immersed turbine, silent and integrated into the environment, Reduced maintenance.
Our turbines can be positioned horizontally, vertically or at an angle, with no significant impact on their performance. They always come with a suction cone (supplied as standard) and, if required, an extension (optional, depending on flow rate).
Designed around standard diameters, they can be preceded or extended by any pipe readily available on the market. They are totally silent because they are submerged and deliver their downstream flow below the water level of the tailrace.
Installation principles
Inclined
Vertical
Horizontal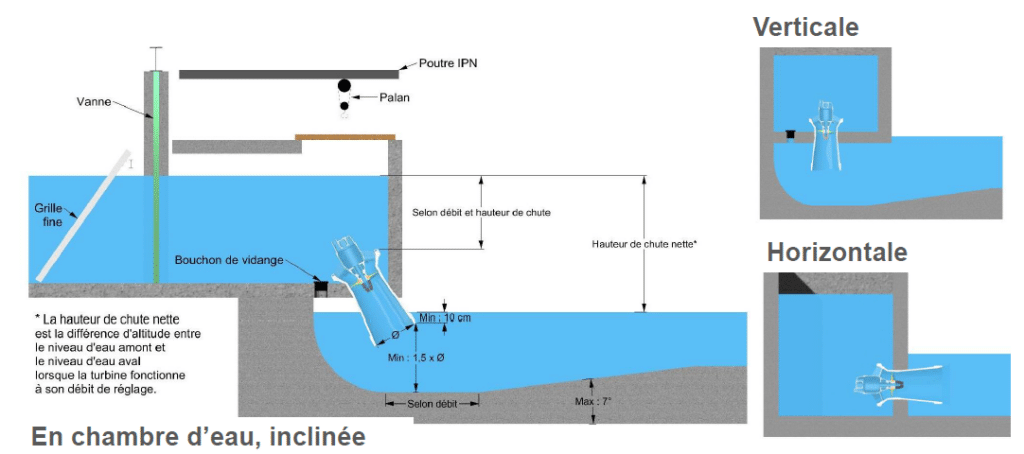 Easy maintenance
Simple and reliable, they require very little maintenance!With a shaft directly driven by the propeller blades, friction is reduced to a strict minimum. Only the bearings are stressed, and they are designed to last 100,000 hours (over 10 years).
The maintenance recommended by Turbiwatt is therefore limited to :
Regular visual inspection of the upstream grid responsible for filtering out logjams (leaves, branches, waste, etc.), which may be automated,
An annual visit (one day on site) focusing in particular on :

Annual greasing of the upper bearing,
A check on the potential divider.

A major maintenance visit (5 to 7 years, depending on the height of fall), including preventive replacement of bearings and anode, a general overhaul, replacement of wearing parts, sandblasting and painting (carried out in a Turbiwatt-approved workshop).
Turbiwatt can offer you a maintenance contract. The most common installation system in a building is generally made up of :
A valve controlling the supply to the feed channel and the water chamber
A feed channel with fine screening upstream
A water chamber at the bottom of which the turbine is installed
A suction cone (possibly with an extension cube depending on the flow rate) to which the turbine and and its potential extension pipe are attached.
A tailrace canal

In the case of an industrial installation, the feed channel, water chamber and tailrace are generally made up of standard pipes. A study should be carried out to assess any pressure drops. Easy access to the turbine must be maintained for installation, removal and maintenance.
The turbine must operate "out of air". If it doesn't, its efficiency will drop significantly and it may even be rendered ineffective. It is therefore essential to have a minimum height of water above the turbine (which varies according to model and flow rate) to avoid the vortex phenomenon, and to immerse the downstream suction cone (or its extension) under at least 10 cm of water in the tailrace. Similarly, particular care must be taken with pipe joints and assemblies to avoid any air ingress.
The higher the head, the more necessary it will be to install the turbine at the bottom of the head to avoid cavitation phenomena. Turbiwatt will specify the recommended installation methods on a case-by-case basis, depending on the characteristics of the site. The discharge downstream of the turbine must be completely free in order to avoid any loss of head.